dk se EE uch j soletrader nina simone "Siggi"
& Supreme ch beagelee archangel "Gabby"

"MIRANDA LAMBERT" II
KULLET 2023

Aviatrix`s Platinum
Aviatrix`s Geraldene
Aviatrix`s Bluebird
Aviatrix`s Waxahacie
Aviatrix`s Kerosene
Aviatrix`s Palomino
Aviatrix`s Priscilla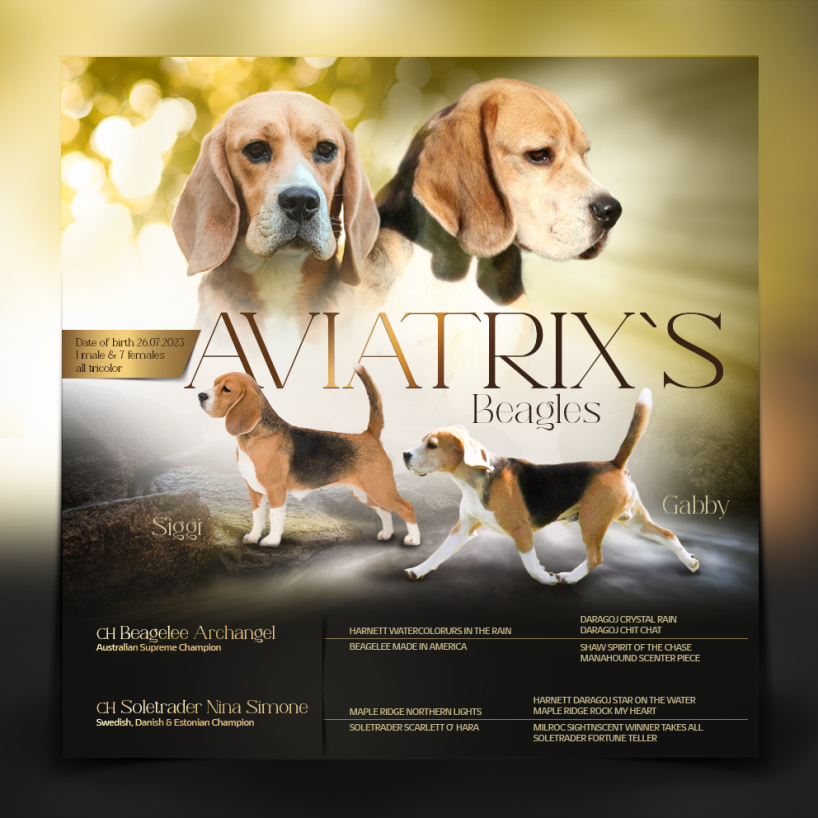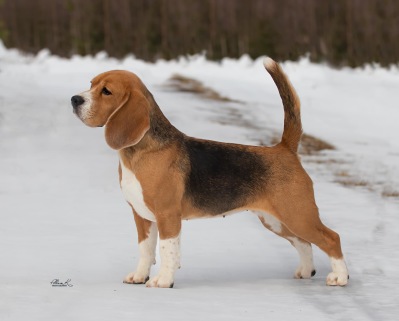 MLS - N/N
Factor 7 - N/N
IGS - N/N
NCCD - N/N
Lafora - N/N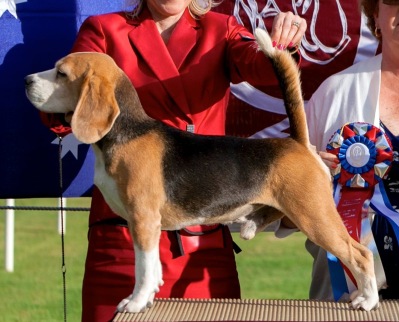 MLS - N/N

IKKE TESTET PÅ ØVRIG DA DISSE TESTENE IKKE VAR TILGJENGELIG DA HAN LEVDE.
BEAGELEE ARCHANGEL
HARNETT WATER COLOURS IN THE RAIN
DARAGOJ CRYSTAL RAIN
CLARION CRYSTAL FIRE
DARAGOJ LOVENOTE
DARAGOJ CHIT CHAT
ECHO RUN FROLICSOME FELLA
DARAGOJ GREAT PLEASURE
BEAGELEE MADE IN AMERICA
SHAW SPIRIT OF THE CHASE
SHAW`s MIKEY LIKES IT
ECHO RUN KINDRED SPIRIT
MANAHOUND SCENTER PIECE
MANAHOUND CENTER COURT
LOVERLY CIRCUIT BREAKER
SOLETRADER NINA SIMONE
MAPLE RIDGE NOTHERN LIGHTS
HARNETT DARAGOJ STARS ON THE WATER
HARNETT WATER COLOURS IN THE RAIN
DARAGOJ DESIREE
MAPLE RIGDE ROCK MY HEART
BARRISTER`S SCOUNDREL TIME
MAPLE RIGDE MUSIC OF MY HEART
SOLETRADER SCARLETT O`HARA
MILROC SIGHTNSCENT WINNER TAKES IT ALL
MILROC CLASSIC TROUBLE
MILROC WALKING IN RED HIGH HEELS
SOLETRADER FORTUNE TELLER
BARRISTER`s YANKEE DODDLE DANDY AT
DAVRICARD HONEYSUCKLE
08.10.2023 valpene er 11.5 uke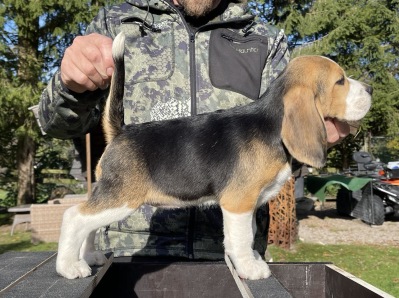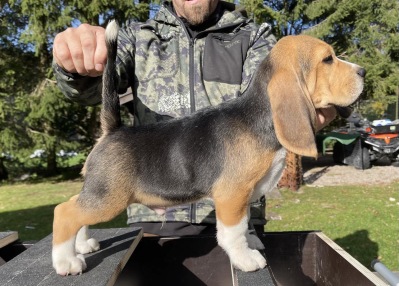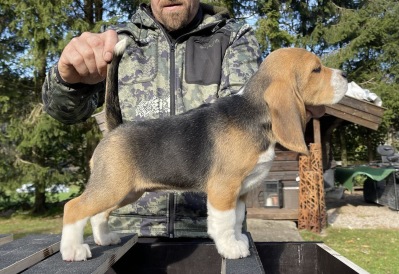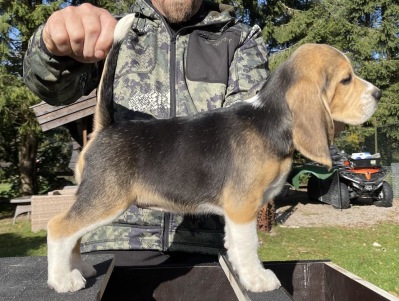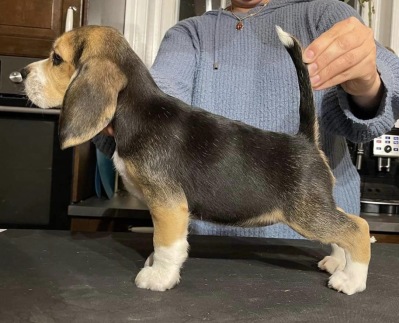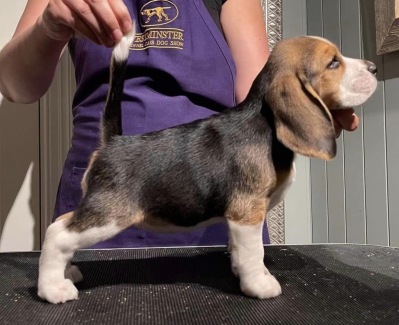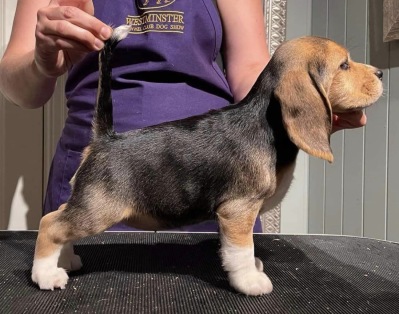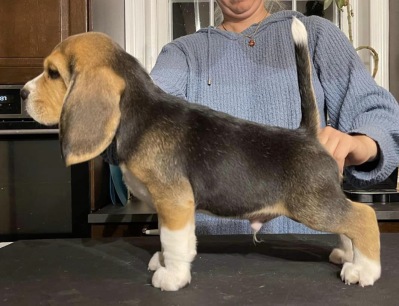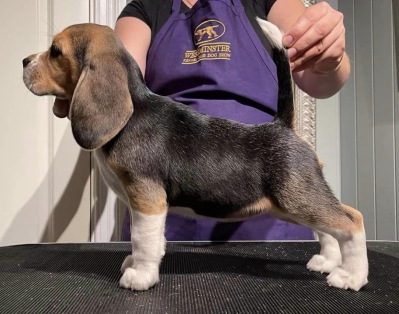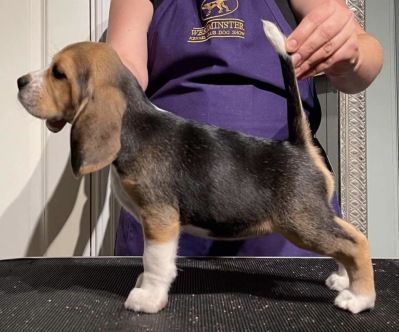 02.08.2023 valpene er 1 uke gamle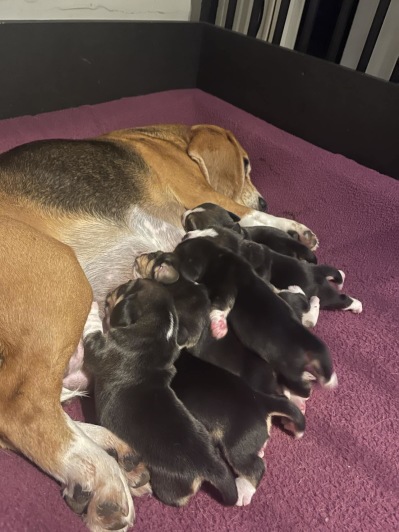 Valpene er en uke gamle og det er en fornøyd gjeng. Siggi holder dem mette og rene- og dagene går i mat og søvn. Det er svært lite lyd å høre ifra dem og Siggi er en fantastisk mamme. De har doblet vekten og har inntatt formen som små sumo brytere.

Neste uke får de sin første behandling mot innvollsparasitter og klipp av negler. Vi venter også at øyene snart åpnes- og det ser vi frem til. De får så mye mer personlighet når det skjer.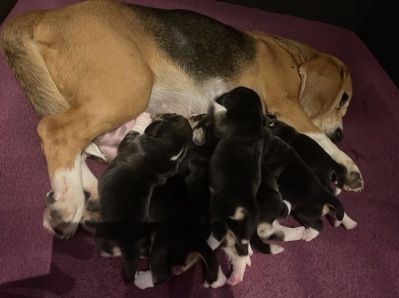 26.07.2023 valpene er født
De fleste valpekull blir født midt på natten- når resten av huset egentlig skulle sove. Derfor er det ekstra kjærkomment når valpefødselen skjer på dagtid- og når den i tillegg går veldig fort og uten noen problemer så føler man seg så lykkelig! I løpet av 4 timer var alle 8 valpene født. Siggi var superflink og tok det hele med stor ro. Hun hadde svært lite tegn på oppblokking og appetitten var på topp- så selve fødselen kom noe overraskende på u.t. Det ble født 7 tisper og 1 hanne- og alle valpene er tricolor med pene tegninger.

Dessverre var det en tispevalp som ble dårlig dagen etter og som sovnet stille inn i fanget mitt i løpet av natten. Det var bare ikke hennes tur denne gangen.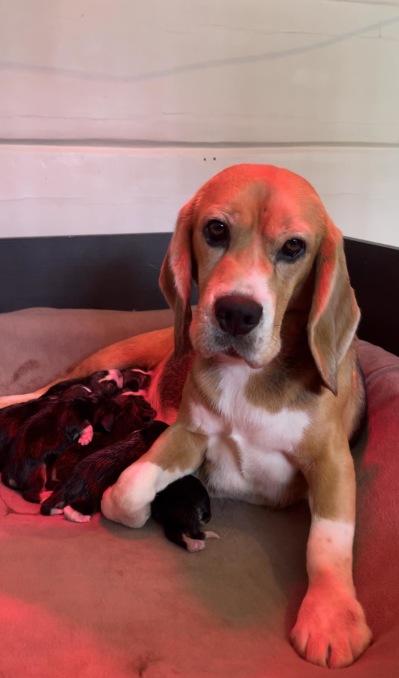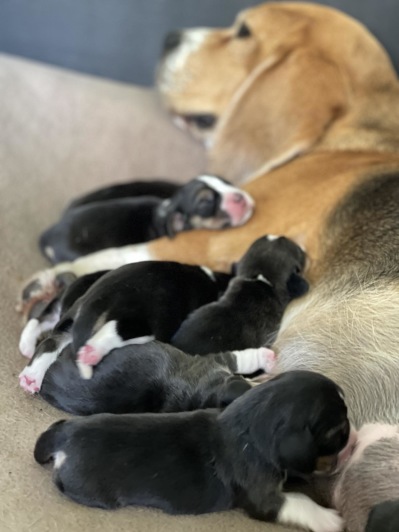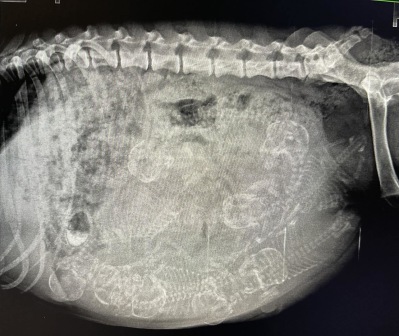 I dag gikk turen til Eli Ovedal for røntgen av Siggi. Det er like spennende hver gang å se hvor mange valper som skjuler seg der inne. Siggi har vært stor og vi antok at det var flere enn 6 valper- men bildene viser at det er 8 valper som ventes. Så da er det bare å krysse fingrene for at fødselen går bra!
For spørsmål/informasjon eller ønske om å stå på venteliste er det bare å ta kontakt

Janne Sandbakken
Audnedalsveien 2989
4525 KONSMO
Norge
Tlf: +47 99451135
JanneSandbakken@hotmail.com
Valper fra vårt oppdrett er:

Registrert i Norsk Kennel Klub (Stamtavle)
Vaksinert ved 8 ukers alder
Id Merket (Microchip)
Veterinærbesiktiget
Regelmessig mark/orm behandlet