FANTA BRAND LETS GO TO AVIATRIX "MISCHA" &
no uch njv-19 j Aviatrix`s Ol`red "Yankee"
FØDT 10.04.2023

"Jordana Bryant" Kullet 2023
Aviatrix`s Penniless & Broke (H)
Aviatrix`s New Friends (T)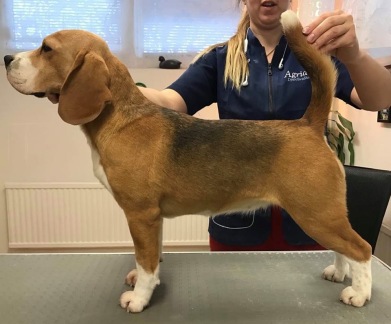 MLS N/N
IGS N/N
NCCD N/N
LAFORA N/N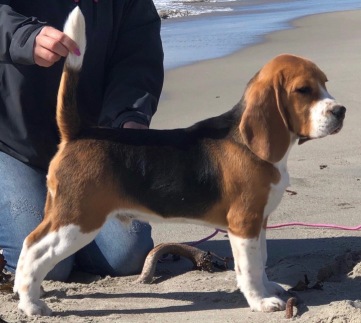 MLS N/N
IGS N/N
NCCD N/N
LAFORA N/N
AVIATRIX`S OL`RED
TRAJAM THE TOURIST
LANBUR CARSON CITY
LANBUR ONE MAN SHOW
LANBUR TAYLORD TO TASTED
TRAJAM ALMOST FAMOUSE
WINDKIST A WALK IN THE PARK
BAYOU OAKS PEPPERONI
ABSOLUTELY SPOTLESS PANDA
BEAGELEE FINNISH SPIRIT
TOONHUND CAGNEY
DARAGOJ PERSONAL AGANDA
ABSOLUTELY SPOTLESS RUSALKA
DARAGOJ CRYSTAL CHANCE
SPOTLESS KAMEA
FANTAS BRAND GOING TO AVIATRIX
SZEPHEGYI-SZIMAT GANDALF
DARAGOJ FRANK ZAPPA
DARAGOJ CRYSTAL RAIN
DARAGOJ LITTLE BOLD LADY
SZEPHEGYI-SZIMAT VANILKA
HESSIN TOBIAS
SKILOS MAS GROSS SCORE
FANTA`S BRAND MISS AMERICA
MILROC CLASSIC TROUBLE
HA-PENNYS TOO MUCH TROUBLE
LANBUR CRYSTAL CLASSIC
VALSI INVITE TO DANCE
SZEPHEGYI-SZIMAT WOODS
ALOTORIUS AWANGARDA
31.05.2023 siste uken med valpene
I dag har turen gått til veterinær for sjekk og vaksine- og det var ingen anmerkninger på valpene. Vi hadde glemt oss bort og gitt dem mat rett før kjøreturen så de var litt bilsyke- men det ble fort glemt da de kom inn på klinikken. Her sjarmerte de sokkene av Eli veterinær. Vi er så fornøyd med hvordan valpene har utviklet seg- og gleder oss til å følge dem fremover. Hannvalpen blir her litt lengre før han flytter.

8 uker går så fort og man blir like overrasket hver gang over hvor kort tid man får lov å ha dem her før de skal flytte til sine hjem. Disse to har vært en drøm å ha i huset- og de har gitt meg så mange smil og øyeblikk. Jeg ønsker dere alt godt og er så takknemlig for ukene vi fikk ha sammen.
Aviatrix`S penniless & broke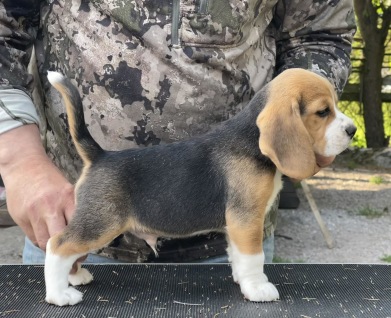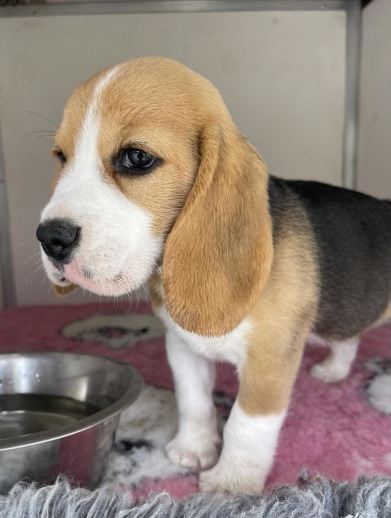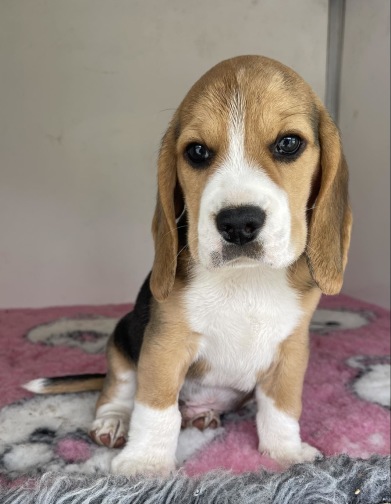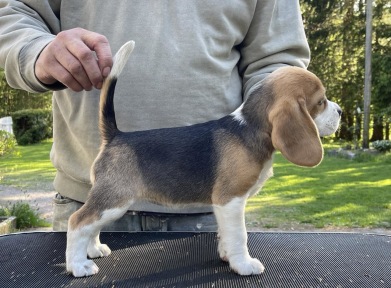 15.05.2023 VALPENE ER 5 UKER
Det har vært stille noen uker- men her er endelig litt oppdatering rundt valpene til Mischa og Yankee. Det var kun to valper i kullet- og de første ukene har med andre ord vært veldig behagelige for oss. Mischa er en fantastisk mamma og man har knapt merket at man har hatt valpekull i hus. Det er to utadvendte og trivelige valper. De har fått kur mot innvollsparasitter hver andre uke og klipp av klør hver uke. Nå er de ute på dagtid og koser seg sammen med to og firbeinte.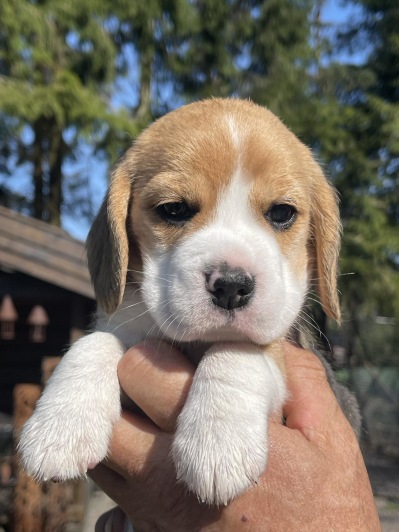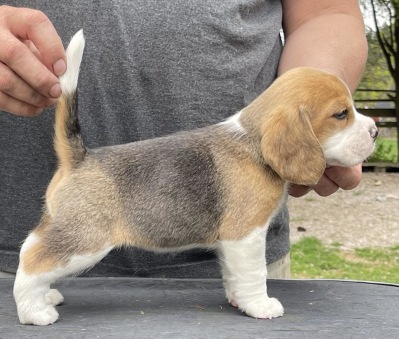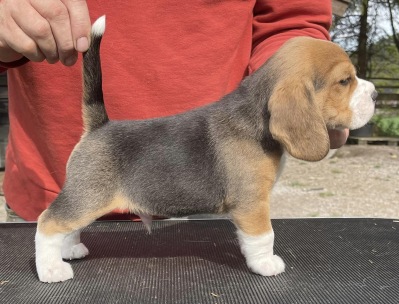 10.04.2023 valpene melder sin ankomst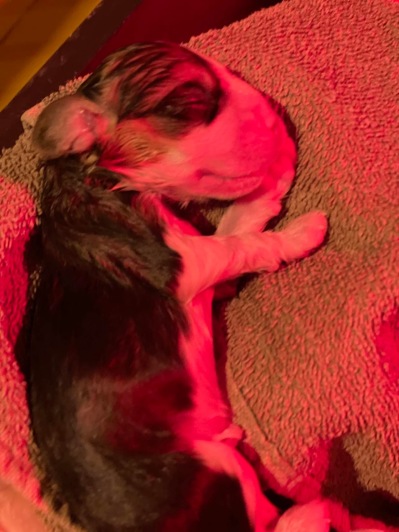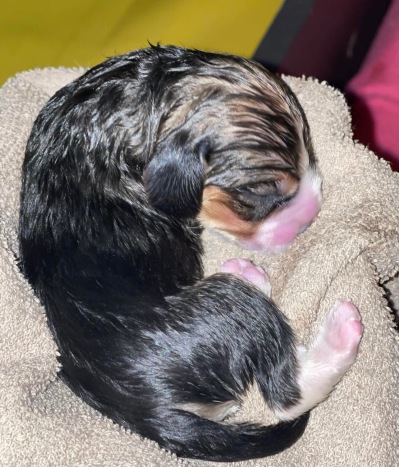 Fødsler kan innimellom være en tålmodighetsprøve- og man glemmer litt fra gang til gang. Lørdag ettermiddag startet Mischa med oppblokking- temperaturen droppet og vi forberedte oss på valping den natten. Jeg gikk og la meg tidlig, mens Egil fulgte med på Mischa. Gjennom natten var jeg oppe hver andre time og så til henne. Hun var urolig og peste masse. Dette fortsatte gjennom hele søndagen. Kl 01.00 merket jeg at hun var mer urolig enn tidligere og sengen hennes hadde eksplodert.
Kl 02.20 kom første valpen- en trefarget hanne.
Kl 05.40 kom andre valpen- en trefarget tispe.

26.01.2023 Mischa har fått løpetid
05-07.01.2023 Parring
For spørsmål/informasjon eller ønske om å stå på venteliste er det bare å ta kontakt

Janne Sandbakken
Audnedalsveien 2989
4525 KONSMO
Norge
Tlf: +47 99451135
JanneSandbakken@hotmail.com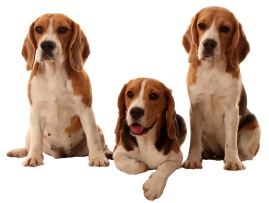 Valper fra vårt oppdrett er:

Registrert i Norsk Kennel Klub (Stamtavle)
Vaksinert ved 8 ukers alder
Id Merket (Microchip)
Veterinærbesiktiget
Regelmessig mark/orm behandlet