TITTEL: NO UCH AU CH FIN CH C.I.B (*) J

REG.NR: ANKC2100334995

FØDT: 24.01.2011

FORELDRE; Absolutely Spotless Szach & Beagelee Final Match

FARGE: Tricolor

OPPDRETTER: Leanne & Christophe Duval, Australia

UTSTILLING: Australsk Champion. 2.BIS Beagle Club NSW Specialty winner 2012. Vinner av Championklassen på WDS 13. NKK Int. Bø 2014:2BIG
BIS Biri 2014
4xCACIB Norge
Res. CACIB
1xCERT Ungaren
2xCERT Polen

JAKTPRØVE:1 og 2 pr Hare
Jager hare, rådyr & rev

MLS: N/N (Normal)

IGS; N/N (Normal)

NCCD: N/N (Normal)

LAFORA N/N (FRI)

(*) Avventer godkjenning fra FCI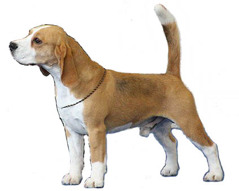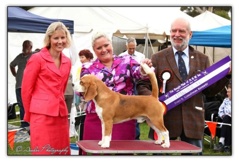 NO FIN AU CH C.I.B Beagelee Bourne Identity "Zac"
ABSOLUTELY SPOTLESS SZACH
HOTSHOT XANDRINA
DARAGOJ FRANK ZAPPA
DARAGOJ CRYSTAL RAIN
DARAGOJ LITTLE BOLD LADY
STARBUCK TORBAY SMOKE RING
DARAGOJ MATTER OF TIME
STARBUCK TORBAY SPECIAL AFFAIR
SPOTLESS INGRID
LEMATJA`S T-TWO
ULRADIS TJALFE
DUFOSEE ONLY
CALABRIA`S CAMILIA TEL QUEL
DARAGOJ COUNTRY CLASSIC
BOROWKA TEL QUEL
BEAGELEE FINAL MATCH
BEAGELEE FINNISH SPIRIT
TOONHUND CAGNEY
BEAGELEE AIR AMERICA
TOONHUND SPRING AMBER
DARAGOJ PERSONAL AGENDA
ECHO RUN FROLICSOME
DARAGOJ KASTEHELMI
DARAGOJ GOLDEN DESIGN
FAMOUSE JOKER GO FOR THE GOLD
FAMOUS JOKER MASTER OF GAME
CONRADA DENMARK DEBUT
DARAGOJ LOVENOTE
BRIARHILL OUR OWN BRUICE
DARAGOJ GREAT PLEASURE
Internasjonal Utstilling NKK Hamar 14.10.12. Dommer: Paula Rekiranta, Finland. 1Exc. CK, 2BHK, CACIB
Internasjonal Utstilling NKK Rogaland 16.09.12. Dommer;Soile Blister, Finland. 1Exc. CK, 2BHK, CACIB
Internasjonal Utstilling Bergen 06.04.13 Rodi Hübenthal, Norge : 1 Excellent, Ck, 2BHK
Internasjonal utstilling Budapest, Ungaren : 1 Excellent, CERT- Vinner av championklassen!!
Nasjonal Utstilling Poznan, Polen 25.05.13 1 Excellent, CERT, 2BHK
Klubbshow Poznan 25.05.13 1 Excellent, CERT,
Nasjonal Utstilling Ustka 26.05.13 1Excellent, CERT, BIR
Internasjonal Utstilling NKK Rogaland 14.09.13. Dommer Dr. Levente Miklos, Ungaren. 1exc. Ck, BHK, BIR, CACIB og topp 6 i gruppe 4/6.
Internasjonal Utstilling NKK Bø 23.02.14. Dommer Leif Herman Wilberg, Norge. 1 exc, Ck, BIR, CACIB og 2BIG gruppe 4/6 for gruppedommer Tamas Jakkel, Ungaren.
Internasjonal Utstilling NKK Kristiansand 16.03.14. Dommer Tino Pehar, Kroatia. 1 exc. CK, 2BHK og Res. CACIB.
Nasjonal Utstilling Biri 21.06.14. Dommer Catharina Linde-Forsberg, Sverige. 1 exc. Ck, 1BHK, BIR. Best in Show for dommer Per Harald Sivesind, Norge.
Nasjonal Utstilling Norge 06.05.2018: 1Exc, 1CHKK, CK, 1BTK, BIM. Bjørn Roald, Norge.
Sørlandets Harehundklubb, ÅP. Ivar Kjørmo. 2 Hare
Sørlandets Harehundklubb, ÅP. Ivar Kjørmo. 1 Hare