Aviatrix`s Playing With Fire "Poppy"
TITTEL:

REG.NR: NO/17

FØDT: 28.01.2017

FORELDRE: Beagelee Donald Duck & Absolutely Spotless Panda

FARGE: Trefarget

OPPDRETTER: Eget oppdrett

UTSTILLING: Exc. CK

JAKTPRØVE: 3 Hare

MLS - N/N
Factor 7 DEL/- (BÆRER)
NCCD - DEL/- (BÆRER)
IGS - N/N
PKDef - N/N
POAG - N/N
LAFORA N/N (GENETISK FRI)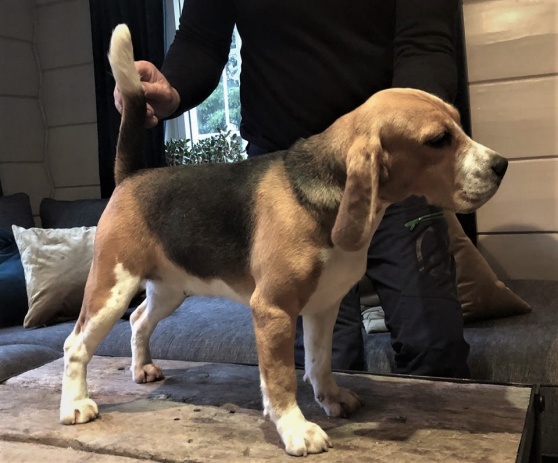 BEAGELEE DONALD DUCK
BEAGELEE ARCHANGEL
HARNETT WATERCOLORS IN THE RAIN
DARAGOJ CRYSTAL RAIN
DARAGOJ CHIT CHAT
BEAGELEE MADE IN AMERICA
SHAW`S SPIRIT OF THE CHASE
MANAHOUND SCENTER PIECE
BEAGELEE PENNY IN MY POCKET
BEAGELEE POCKETFUL OF SUNSHINE
DARAGOJ LAUDATUR
BEAGELEE KILLER QUEEEN
BEAGELEE FOXY LADY
DARAGOJ CRYSTAL RAIN
BEAGELEE FINEST BLEND
ABSOLUTELY SPOTLESS PANDA
BEAGELEE FINNISH SPIRIT
TOONHUND CAGNEY
BEAGELEE AIR AMERICA
TOOHUND SPRING AMBER
DARAGOJ PERSONAL AGENDA
ECHO RUN FROLICSOME FELLA
DARAGOJ KASTEHELMI
ABSOLUTELY SPOTLESS RUSALKA
DARAGOJ CRYSTAL CHANCE
CLARION CRYSTAL FIRE
DARAGOJ LOVENOTE
SPOTLESS KAMEA
DARAGOJ FRANK ZAPPA
CALABRIA`s CAMILIA TEL QUEL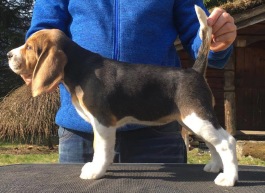 Nasjonal Utstilling Norge 06.05.2018: 1Exc, 2JKK, CK, 2BTK. Bjørn Roald, Norge.
Nasjonal Utstilling Norge 26.05.2018: 1Exc, 2JKK, CK, 4BTK. Elisabeth Aune Moseby, Norge.
Nasjonal Utstilling Norge 16.06.2018: 1Exc, 2JKK, CK, 3BTK. Oscar W. Nilssen, Norge.
"38 cm. Utmerket type. Meget godt hode. Pene øyne og ører. Sterk, spenstig kropp. Flott hale. Bra benstamme. Ok vinkler. Utmerket bevegelser. Fine Farger. Ok hårlag." Oscar W. Nilssen
"15 mnd. 38 cm. Femi, velskåret hode. Herlig uttrykk. Velansatt ører av korrekt lengde. Utmerket hals. Godt forbryst. Velanlagt skulder. Super overline. Skal ennå utvikles i bryst. Bra kryss. Tilstrekkelig vinkler. Prima beinstamme. Bra poter, pels og farge. Bevegelse prima fra alle hold." Elisabeth Aune Moseby
Sørlandets Harehundklubb Åpen Prøve 3 Hare