Morten Johansson and his friend Vibeke (Ob-La-Di Beagles) from Denmark made a quick weekend visit to see us.

I first got to know Morten about 20 years ago when he was a small skinny teenager. He was always smiling and helping everyone. Nothing has changed: he is still smiling a lot and polite as ever. The only thing that has changed is that he has become a "serious" Beagle fancier and breeder. We had a wonderful weekend, but, as usual with us stiff and reserved Finns, it takes a while before we get going and of course we run out of time and the visit was over before we knew it.
Seppo and I visited the Westminster Kennel Club Show in New York and the Elm City Kennel Club Show in Connecticut in February. We had a lovely trip although we arrived in the middle of "the snow chaos". We saw many old friends and met also some new ones! I have never been to Crufts in England or Westminster in the U.S. Having experienced the second day of Westminster, I must say there is no other dog show like it! It was so easy to follow judging in several rings simultaneously, and I think I was able to see much more judging than I ever see over here. There were many very nice dogs in several breeds, while some others were quite disappointing. There was plenty of room to walk around and to talk to people as the show had not been taken over by trade stands as is the case in many big shows.

We are so used to a morning rush and long lines when the exhibitors enter the show, it was surprising to see how smoothly more than a thousand dogs went into the Garden in downtown New York on a weekday morning... Apart for banners and posters outside the Madison Square Garden, you would have never known that the most prestigious dog show in the U.S. was taking place inside. This made me wonder whether our shows have actually grown too big.
Inside, everthing was so stylish and elegant with the Westminster Kennel Club colors of gold and purple repeated in the interior, in flower arrangements, show catalogue covers and the velvet ropes between the rings. In the seating area, waiters went around selling ice cream, pop corn, sodas and even champagne - all contributing to an enjoyable experience.
And the group finals in the evening with the same purple and gold colors, name signs for each breed, handlers and judges dressed in their festive best and the dogs performing out of their hearts' content while you could sit and watch each individual dog gaited up and down on the big screens. Isn't this what dog shows should be all about, including style and glamor?
Clarion Cameo Magic Man, "Magic", started his showcareer by going best of breed at Oulu, judge was Karl-Erik Johansson from Sweden.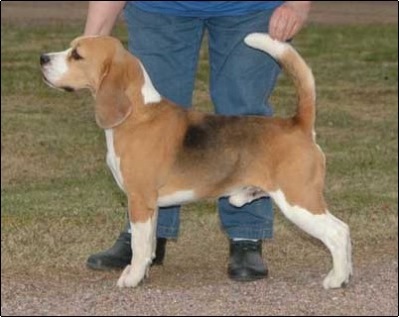 Pupu (Daragoj Crystal Rain) said farewell to the show ring in style, winning Best of Breed at our Winners' Show in Helsinki on December 17. He will make way to his children and grand children. He will be shown only if there are especially interesting judges (and there aren't many of them left today!)

His grandson Daragoj Laudatur was the second best male and gained the Junior Winner title at 9 months of age. The third best male was Daragoj Falconer while Daragoj Solid Gold was fourth best male.
Best Opposite Sex was Laudatur's sister, Daragoj Laboheme, who won the Finnish Winner and the Junior Winner title. Their dam, Daragoj Heaven Can Wait, was Excellent-3. The judge was Mr. Gunnar Nyman from Denmark.

At the Nordic Winners' Show on December 18, Daragoj Solid Gold was BOB from the Veterans Class. He was also BIG-4. Congratulations to the grand old man! No Daragoj females were entered. The judge was Mrs. Riitta Lahtovaara from Finland.
Clarion Cameo Magic Man, "Magic", was imported from Australia to Finland in October 2003. In November 2004 Magic moved to live with Marjukka Alhava, with whom I co-own Magic and Rocco (Daragoj Viva Zabata). Visit also their own homepage. Magic has so far participated only one match show with huge amount of dogs. Magic won the whole show! This year Magic will be shown in an official show, too.